Congressman Vern Buchanan announced that three teachers in the 16th Congressional District were chosen for the Congressional Teacher Awards.

The Congressman recently honored the recipients during a ceremony at the Manatee County Board of County Commission Chambers in Bradenton.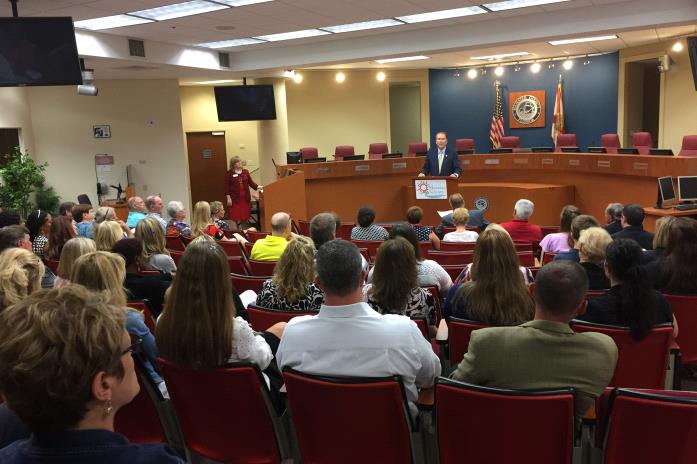 Buchanan (top) addresses the group
The Congressional Teacher Awards, established by Buchanan in 2014, are given out annually to special Suncoast teachers for their outstanding achievements on behalf of students.

This year's award recipients include:
Danielle Murphy for her accomplishments as a teacher at Boyette Springs Elementary in Riverview.

Carol Pelletier for her accomplishments as a teacher at Sarasota Military Academy Prep in Sarasota.

Emilee Vermilion for her accomplishments as a teacher at Southeast High School in Bradenton.
"I was once told that children are 25 percent of the population, but they are 100 percent of the future," Buchanan said. "And it's true. The education of a child and young adult is an investment, not only in that student, but in the future of our country. That is why I established the Congressional Teacher Awards to honor educators for their ability to teach and inspire students."
This year, 27 teachers were nominated by their principals. An independent panel of eight judges from Sarasota, Manatee and Hillsborough counties chose the recipients of the Congressional Teacher Awards.
"On behalf of all of my constituents in the 16th Congressional District, I congratulate each of these outstanding teachers and offer my sincere appreciation for their service and dedication," concluded Buchanan.
Each of the school districts in Florida's 16th Congressional District nominated teachers to receive the Congressional Teacher Award. All of the nominated teachers were recognized by Buchanan and honored by the Congressman in the Congressional Record for their achievements.
Congratulations Ms. Murphy!
Learn more about Boyette Springs Elementary by visiting the school's website.
Source: Vern Buchanan; https://buchanan.house.gov/media-center/press-releases/buchanan-applauds-outstanding-local-teachers